About
www.DougAmey.com
Web development & graphic design are exciting. The challenge and the adventure is keeping up with a world which has never moved faster!
History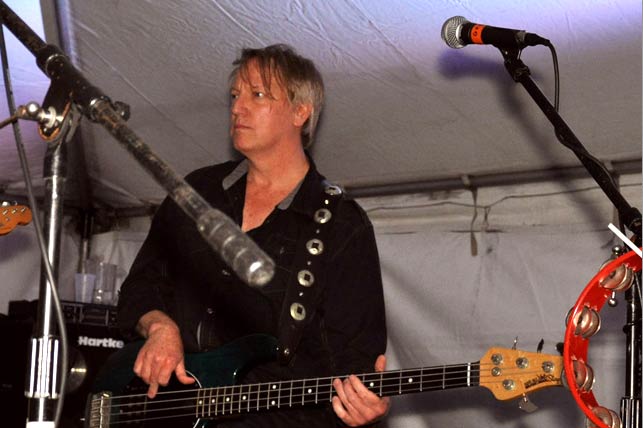 www.DougAmey.com
It all started at an after-hours party at my home in San Jose, Ca. My band had just played a gig at the Filmore in San Francisco, and a bunch of friends came back to our place after the show.
There was a gentleman asking about the unique art on the walls and my girlfriend sent him in my direction, since I was the artist. We talked for a while about fine art, commercial art, favorite artists and styles etc. The party went on and I did not think much about it. I was exhausted and distracted with around 60 people in my living room at 3am.
The next day I got a call from this guy asking me if I would be interested in learning to create art on a computer. He claimed that he could teach me how to use computer software, but he could never teach his programmers how to be artists.
I drove to his company the next day to meet everyone and was hooked immediatly. They walked me through Photoshop, InDesign, Flash, Dreamweaver, Illustrator, etc., and even came to my house with a new Mac computer, to set me up with the tools and get me online. I've learned that geeks (a term they take great pride in) are among the most generous people in the world with their knowledge and resources.
I have been running on the learning curve ever since, and loving every minute of it!
Clients

Symphony Dental Care
Climbing Robots.com
Stonebridge Prep
360º Financial
Columbus County News
Yates Community Center
No Dance Damper
CK Cellars
Finger Lakes Wildlife Control
Finger Lakes Chamber Music Festival
Lake and Vine Bed & Breakfast
Finger Lakes Property
The Esperanza View
Hope Walk of Yates County
Arts Center of Yates County
DentalDeeds.com
Wild Flower Café
Rooster Fish Brewing
Crooked Rooster Pub
The Village Tavern
Hammondsport Lodging
18 Vine Bed & Breakfast
Watkins Glen Wine & Spirits
Affordable Finger Lakes
Dick Murphy Homes
Dan Morse Real Estate
Ed Culver Real Estate
Belknap Hill Books
Finger Lakes Connections
Finger Lakes Construction
Garrett Memorial Chapel
Michael T. Grant
Rising Sun Reiki
Bob & Junes Coffee
LorenzCornelisen.com
Finger Lakes Video
The Trading Hut
Branchport Wine & Spirits
Dundee Scottish Festival
LOTAC
Apex Inn
Dock Builders
Stone Romeos
Rochester Mac
Mountain Rise Organics
Canopy Evolution
Bernice Stern Real Estate
Town of Jerusalem
Harbor View Townhomes
The Furies
The Sugar Lumps
Agonal Rhythm
Torrey Ridge Winery
Darcy Anderson Real Estate
Showboat Motel
Crooked Lake Mercantile
Rebecca Miner
Joslyn Pest Control
Nickel's Pit BBQ
Keuka Art Festival
Yates County Community Center
Rise Creative Camp
Insight Financial
Keuka Oil Company
CarolGenneco.com
Woods Walker
Nickel's Marina & Restoration
Tim Amey Law Firm
Alien Sideshow
The Sugar Lumps
Tree of Life Coffee
Marion Balyszak
Lovejoy Books
Penn Yan Theatre Company
Dog Styles Pet Grooming
Keuka Shores
Wildlife Control of the Finger Lakes
Faze-3
1922 Starkey House
ModelVisions.com
The Pullsheet Company
Arms at the Glenn
Diverters Movie
Judge William King
Sugar Creek Setters
And many more...
Project Gallery
What We Do
I have been designing websites and graphics for clients around the world since 2001. Prior to that, I spent a few years accumulating hands on experience at the Silicon Valley start-up firm XtremeVisions.
We combine elegant design, graphic arts, and internet technologies to help you shape the perceptions of your customers.
We analyse your company, industry, and competitors, and use this information to project an online presence to compete with the top echelon.
A well-designed website informs your clients with ease and efficiency.
You've put the time and energy into your business concept, Now let the world in on it!
Web Development
Web Sites
We develop websites to meet your needs. We use high end graphic design to showcase your company, clear navigtion, to guide and inform your visitors, and clean code so your website will load quckly and work across all browsers.
E-Commerce
We build online stores using an array of e-commerce solutions. Paypal has tools which enable you to sell unlimited products. Set up is free and easy. Paypal collects just 3% of all purchases. Ebay's ProStores, Volusion, BigCommerce, Shopify, the list goes on... There are many highly affordable ways to take care of all your web store needs.
Search Engine Optimization
Our websites are built with Search Engines in mind. The point of having an online presence is to reach as many people as possible. We stay on top of the changing priorites of search engines. We aim for high ranking in Google, Bing, and Yahoo, the Search Engines which account for 90% of all internet traffic.
Secure Web & Database Programming
We are partnered with the The PHP Kemist, a Utah Programming firm specializing in secure web and database programming. The PHP Kemist creates custom mobile websites and web applications to meet your business needs. Their Utah Programmers are expert security programmers who understand how to develop secure programming, to protect your Online data and your eCommerce business.
Cost
The cost of a project will vary according to it's complexity and size. Our website design services usually fall between $600 to $5000. Feel free to call or email me to discuss your project. I love brainstorming, and I'm always interested in learning about new businesses, and how best to showcase them.
Contact Us Today!
---